On January 27, 2014, ICM showed love to 350 poor and street children who attend school by giving them good shoes. This was a late Christmas for these children, many of whom have never had a good pair of shoes. It happened at ICM headquarters at Gandhinagar, Ongole.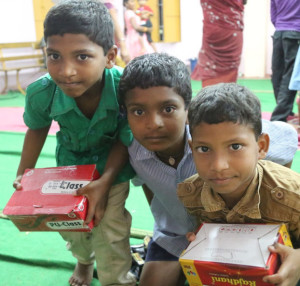 One of the costs of poverty is that items like shoes are neglected. Poor children do without or wear very cheap or worn shoes, only when necessary. This distribution helps close the gap between what the rich can afford and what the poor cannot afford. The children were given the same good shoes as the rich children can buy. This made them very happy and also shows them that they are just as valuable as their wealthy schoolmates.
The chief guest was Mr. M.S.S. Ashok Babu, Deputy Superintendent of Police. He praised ICM for their kindness and care for these poor children. The programme was led with songs, games, and cultural activities for the children, who enjoyed the event very much.