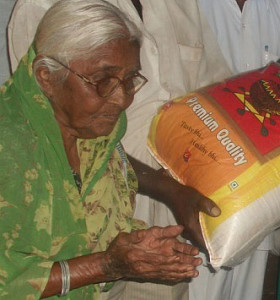 In the rural areas of the Kurnool district, a flood hit in November, 2013 due to severe rainfall. The Brahmana Kotkur village, about 20 km away from Kurnool, was badly hit. and many people lost everything in the disaster. ICM distributed 60 bags of rice (25 kgs each) to 60 families on December 3rd.
This distribution will help keep these villagers alive while they try to put their lives back together. Without it, recovering would have been an extremely difficult process.
The next day, ICM went on to help another village, Bhaskarapuram (35 km away from Kurnool headquarters), which was also badly affected by the flood. The poor there did not even have proper clothes to wear, so  ICM distributed 270 sarees.
ICM believes that loving and caring for people is one of the highest commandments of Jesus. Therefore, regardless of religion, ICM seeks out those in need and tries to fill those needs.